Description
Girton Lakes, Girton, Nottinghamshire
Just a hop over the Lincolnshire border into Nottinghamshire, you will find Girton Lakes, home of Girton Sailing Club. Just off the A1133 at Girton, you can take a stroll up the quiet lanes near the lakes, or go off the lanes and work your way around the lake along grassy paths towards the sailing club.
Getting there: From the A1133 turn onto Trent Lane signed Girton Village Only. Go slowly straight down here until you reach the small parking area. Head down Trent Lane to the end. At the end you will find a locked vehicle gate and a pedestrian access kissing gate.
Route 1) Shortly after entering the gate, you can take a right turn onto a well trodden grassy path which leads through trees between the two lakes. This will lead you to a beachy area. From there you can either turn around and head back through the trees or continue on (route 2)
Route 2) Continung on from route 1, continue on around the lake, on past the sailing club, down Green Lane and back up Trent Lane, which will take you on a loop bac to your car.
Route 3) Head through the gate at the end of Trent Lane, walk around 800m down the lane directly towards the banks of the River Trent. From there you can either head back again or continue on along the edge of the river, where you will eventually arrive at the top of the lakes.
Distance: Circular loop around the lake is 3km or you can take a shorter route to the top of the lake from Trent Lane which is around 1km. If you park at the end of Trent Lane and want a stroll up to the River Trent, it's around an 800m walk.
Time: Allow 1 to 2.5 hours, depending on which paths you take.
Rating: Moderate
Route Type: Depending on the route you choose, a longer walk would be circular, or for a shorter walk I'd advise aiming for a point and then returning back on the same route as it is a long route all the way around.
Parking: If you turn off the A1133 down Trent Lane, and head all the way to the end. There are parking spots available down this lane, though if you head to the very end (coordinates: 53.19013, -0.77318) this is a good spot to aim for to begin your walk.
Access: The lanes on the whole are pushchair friendly (albeit bumpy and some areas are gravelled). The path through the trees between the lakes is a well trodden grassy path and narrow in parts. There is 1 kissing gate.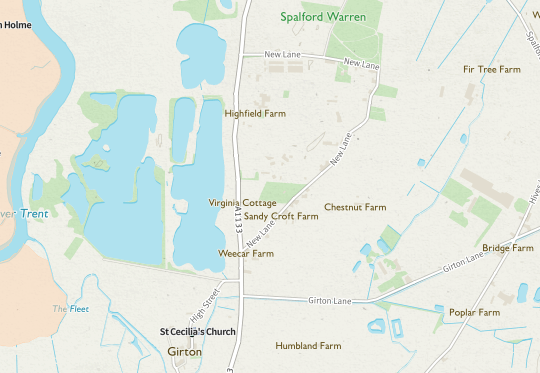 Maps Credits: Google MyMaps and Ordnance Survey
Open hours
| | |
| --- | --- |
| Monday | Open |
| Tuesday | Open |
| Wednesday | Open |
| Thursday | Open |
| Friday | Open |
| Saturday | Open |
| Sunday | Open |