Ages:
All the family
Under 5s
School age
Adults
Venue:
Outdoor
Cost:
Free
Description
Potterhanworth and Burnt Wood Woodland Walk
Potterhanworth and Burnt Woods are part of a series of woods on the edge of the Witham Valley, stretching from Branston to Martin, and separated from fenland to the east by the Roman Carr Dyke. The site has been continuously forested since pre-historic times. The trees in the woodland are mostly lime, oak, ash and birch. Flowers which can be spotted include bluebells, primrose, yellow archangel and many more. The woodland is home to many birds including warblers and woodpeckers, as well as deer, fox, stoat, squirrels and other small animals.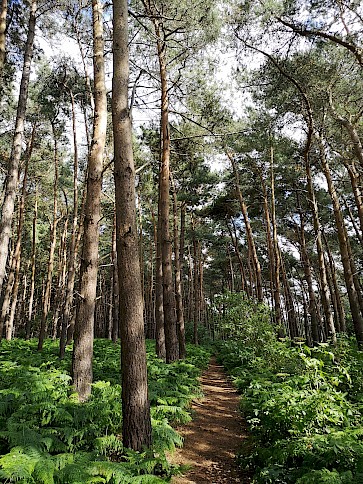 To get to the woods, from the village of Potterhanworth, turn down Barff Road, by the village primary school. Drive down here for around 1 mile where you will see the woods on both sides of the road. There is a layby on the right hand side, next to Burnt Wood, or if you continue down the road it comes to a dead end. You can explore on both sides, but please follow the public footpaths as some areas of the woodland are private.
Within Burnt Wood, there are paths, and although quite narrow, they are clear to walk through. An all terrain pushchair would be required as some paths get muddy further down the woods.
There are 3 or 4 pre-built dens constructed from sticks and branches by previous visitors to the woods. They have been carefully looked after and make the walk through the woods extra special for children.
There are various paths you can follow through the woods. You can go for a short wander around Burnt Wood, which takes around 20 minutes to half an hour (longer if you spend more time exploring the dens in the woods), and leads you in a loop back to the road (a bit further down from the layby).
On the opposite side of the road to Burnt Wood is Potterhanworth Wood, which is larger. The public footpath is located just before the layby, on the opposite side of the road.
Nearest postcode: Barff Road, Potterhanworth, LN4 2DQ.
Open hours
| | |
| --- | --- |
| Monday | Open |
| Tuesday | Open |
| Wednesday | Open |
| Thursday | Open |
| Friday | Open |
| Saturday | Open |
| Sunday | Open |