Description
Doddington Estate Walks
Doddington Circular (1 hour) is A 2 mile (3.2km) circular walk from Doddington Hall and Gardens in the picturesque village of Doddington near Lincoln in Lincolnshire. Entry to the parkland is free of charge. We started in the main car park, and followed the road down between the farm shop and the Giant cycles shop. The first gate is located to the right of the car park down the slope from the cycle shop. Once through the first gate, you parkland pastures (cattle were grazing when we went, but they were on the very far side of the pastures). You can enjoy views of Doddington Hall, and stroll through grassy meadows. The walk then takes you through a couple of kissing gates, past an ancient woodland (500 years old) and down a tarmaced farm track.
*As a guide, it took us 1 hour to do the Doddington Circular walk with a 4 year old and 6 year old.
Fishpond Walk (30 mins) is a short stroll which will take you through a meadow towards a small lake, over a bridge and back up a farm track.
Avenue Walk (45 mins approx) This walk takes you in a straight line and back up and down the Avenue, which leads in a line from the back of Doddington Hall and Gardens towards a pyramid structure 1km from the hall. You will be able to spot the Lincoln red cattle grazing on the right of the pasture land halfway down the Avenue.
Starting Point: All 3 walks start and finish at Doddington Hall and Gardens car park on the main B1190 road. Approximate post code LN6 4RB.
Dogs: Dogs are welcome on the estate paths and make sure dogs are under control where livestock are present.
Access: The walk is quite flat with gentle gradients. Bridleways are grassy initially, but well trodden. It follows stone pathways, grass bridleways and farm track roads which run between woodland on one side and crop fields on the other. As the ground is uneven and much of the walk goes across meadows, an all terrain pushchair would be most suitable for this walk.
There are no stiles on route, but you will need to negotiate a few kissing gates, which would be tricky to fit a pushchair through. Some of the parkland pastures you cross are likely to be holding Lincoln Red Cattle or sheep.
Refreshments: Refreshments can be found at the Giant Cycles shop which is located on the Doddington Estate grounds. They serve takeaway drinks, snacks and ice creams.
For full details of this walk and the route directions, head to Stepping Out Walks
Wildlife to look out for:
Water birds: Snipe, Mallard, Teal, Shoveller, Moorhens
Other birds: Pigeons, Lapwings, Buzzards, Barn Owls, Kestrels, Pheasants, Partridges
Animals: Hares, Rabbits, Deer, Field Mice, Grass Snakes, Common Lizard
Flowers: Cowslips, Devils Bit Scabious, Betony, Bluebells, Knapweed
Butterflies: Painted Lady, Common Blue, Large Skipper, Little Brown Argus, Tortoiseshell, Peacock, Comma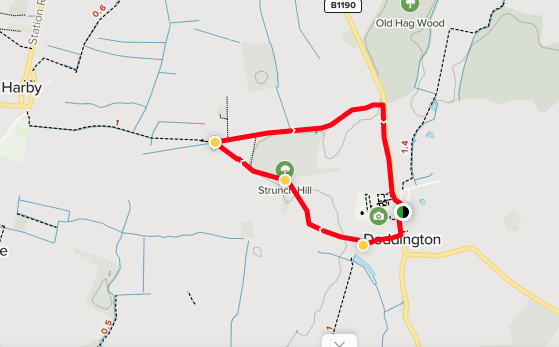 Map Credit:AllTrails
Open hours
| | |
| --- | --- |
| Monday | Open |
| Tuesday | Open |
| Wednesday | Open |
| Thursday | Open |
| Friday | Open |
| Saturday | Open |
| Sunday | Open |